WHAT TYPES OF HTV ARE AVAILABLE?  There are many colors, styles and finishes. Printing is possible in matte, glossy and even glitter (my personal favorite of course); the so-called glitter HTV, with which you can apply glitter to your outfit in a fun and easy way. They are durable and feel velvety. There are also designs with holographic, reflective, glow-in-the-dark and 3D technology to make the design a little more airy. A very special and nice effect!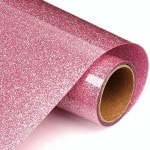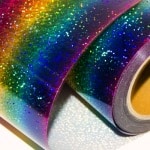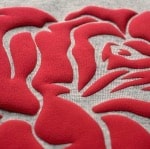 There are several major manufacturers such as Siser and Stahls that have their own versions of the HTV brand. The choice of brand is determined by the fabric on which the HTV is applied, the method of heat transfer and personal preference. Each brand has different vinyl versions made for specific fabrics and substrates. So there is something to test! I strongly recommend testing any new products you use first.
WHAT IS HTV VINYL USED FOR?
You have HTVs in many of the specified colors and special options. It is best used for simple designs with minimal colors as each color or pattern used in the design must be cut, peeled (pecked) and heat pressed. Certain types of HTVs can be pressed on top of each other to form multi-colored designs. The more layers involved, the harder it is to fit them all together to achieve the final result. So it can be quite a challenge. HTV cannot be used for color photos, etc. There are other apps for that.
HTV can be used to create special effects with its glitter, flocked, holographic, glow-in-the-dark and 3D effects. The ability to use multiple layers on top of each other depends on the type of HTV used. There are many possibilities and the only limit is your own imagination.
Articles related to the topic: